22-12-2008, 10:07 PM
RFUK Premium Membership

Join Date: Feb 2008

Location: Grantham, Lincolnshire

Posts: 2,137
Zoo Med Habba Automatic Misting Machine.
---
Hi I have a Zoo Med Habba Mist, Automatic Misting machine For sale!
It is In great condition! It will run from electric or batterys, can program it for misting every hour, 3 hours, 6 hours, 12 hours. Also Can set it to mist for 15, 30, 45, 60 seconds.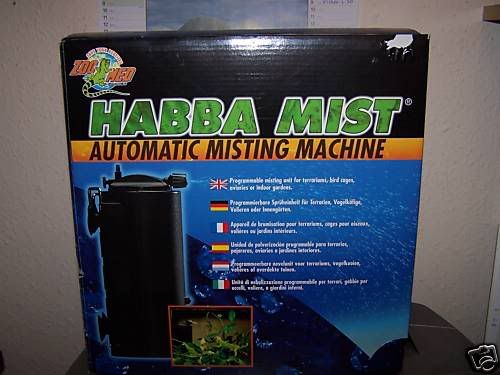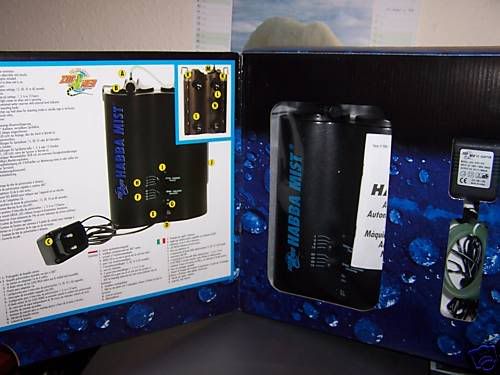 I am wanting £40 posted it is a heavy item! this retails around the £60
__________________
13.37.09 leopard Geckos
4.2.32 Bearded Dragons
1.2.0 African Fat tailed Geckos
3.1.1 Crested Gecko
1.0.0 Gargoyle Gecko
0.0.1 Ackie (Ridgetail Monitor)-
2.2.0 Oriental Fire Belly Toads
0.0.2 Mississippi Map Turtles
1.0.0 Golden Gecko
0.1.1 Bosc Monitor
0.1.0 Tokay geckos
0.0.1 Fantasy Horned Frog
1.1.0 White Lipped Tree frogs.
1.1.0 Painted frogs
0.2.1 Horsfield Tortoise
0.1.0 Chocolate millipede
1.2.2 Lygodactylus Willamsi
0.0.2 Lygodactlyus Picturatus
0.0.4 Lygodactlyus Kimhowelli
0.2.0 Common Boa's
1.1.0 Royal (ball) Python
5.2.0 Corn snakes
& about 4000 Dubia Roaches