03-11-2009, 03:43 PM
| | | | |
| --- | --- | --- | --- |
| | 5 Star Member | | |
* Beech Viv Display Unit Stand - Essex/London/Kent*
---
I have a 3ft wide and 2ft tall beech coloured vivarium stand for sale with a cupboard either side for storing your electrics and an adjustable shelf in the centre.
In good condition as this picture shows (this is for stand only not viv stack).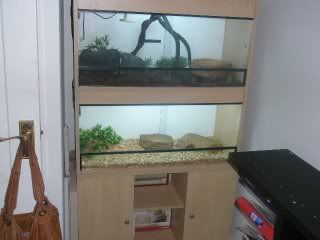 Located by the Dartford Bridge on the Essex/London/Kent borders, local delivery is possible for petrol costs.
Please PM me if you want to make me an offer.
__________________

* www.Gemstone-Dragons.com - Bearded Dragons & Indian Star Tortoises *
* Why buy a Ferarri and then put cheap Tyres on it? - My Dragons were expensive, this is reflected in my Setups, Care & Feeding regimes *

* We are now on Facebook offering safe advice - http://www.facebook.com/groups/BDFUK/ *

* Proud Member of R.E.P.S - www.ReptileExoticProtectionSociety.com *
*Where Dragons Dwell (Ireland) Bearded Dragon Rep - PM For Info on UK Delivery Via Reptile Courier *