Hi. I have a Jenny rat cage for sale. it is a fantastic cage suitable for baby rats through to oap rats. The cage can hold up to 4 adults with lots of room to spare to put toys, hammocks, and for them to just run and climb. You may find on some ads it says you can put more rats in it, but I don't like to fill cages with animals. They need room!!
It comes with 2 corner shelves, some tubes and a litter pan. It is well used and still in great condition and will last many more years!!
I have cleaned it up, but as always I suggest you clean it with some animal disinfectant when you get it home (just like I would)
I am asking £40 for the cage as I have included the litter pan and 2 extra tubes and a HUGE ball with tubes that will attach to the bars. This cage retails at £99 in most pet shops, so this is a bargain!!!!!
Collection only from near Swaffham in Norfolk - But on this saturday we are off to sudbury in suffolk and can meet anyone en route if that helps. (eg mildenhall/barton mills roundabout/thetford etc)
I am also happy to give any advice about rats if you are new to the world of fancy rats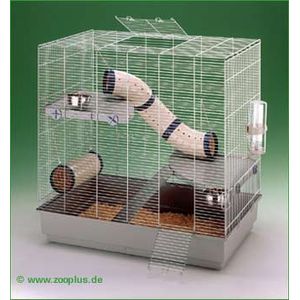 photo courtesy of zooplus. mine is the same but only includes the tubes and the shelves in the pic plus 2 extra tubes, a connected ball and a litter pan