Due to unforseen circumstances I am unfortunately going to have to part with all of my reptiles
I had planned to breed my crested geckos this year
The only lizards I have now are crested geckos so I am going to have to part with them. All pictures are NOT fired up - unless otherwise stated. Also prices include set up unless otherwise stated - do not want to sell separately as I have no use for the vivariums if I cant have the animals.
Biscuit - adult male blonde harlequin - 35g £200.00

Biscuit is approximately 2 years old, bought from Scales & Tails in Leicester. He fires up a really dark chocolate colour with bright blonde pattern.





Biscuit's set up is a glass vivarium with sliding doors and a mesh vent as long as the tank at the top. Inside is 1 MagNaturals feeding ledge, 1 MagNaturals mushroom ledge, 8 Exo-Terra plants and 1 Lucky Reptile plant.


Ezio - juvenille male orange harlequin - 18g £200.00

Ezio is approximately 8 months old (at a guess) I got him in December from Pilbara Reptiles in December/January. He is a stunner, almost all of his sides are covered with pattern.





Ezio's set up is the 45x45x60 Exo-Terra Mayan Habitat complete with hood and oak (I think) effect cabinet. Inside the vivarium is 1 MagNaturals feeding ledge, 1 MagNaturals rock ledge, 5 Exo-Terra plants, 1 large Lucky Reptile artifical leaf, Exo-Terra vines.

Twix - adult female blonde (I think) full pinstripe - 34g £150.00 NOT including set up

I bought Twix from a breeder in Scotland and I honestly can't remember how old she is, apologies for that! Please note she does have the very end of her tail missing, she was like this when I bought her, but it does not hinder her at all and she is fine climbing.



Nibble - adult female lavender harlequin - 30g £150.00 NOT including set up

Nibble is from Ladybird on this forum, I have only had her a couple of weeks. She is an absolute stunner! I think she might have been laying eggs (infertile not been with a male) as I found 2 eggs in the vivarium the females are in and it definitely wasn't Twix, though it could have been Pepper! This picture IS fired up.



Pepper - adult female brindle/tiger(?) - 28g £110.00 NOT including set up

Pepper is a really unusually looking crested gecko, I love her pattern and random dalmation spots! I also got her from Ladybird a couple of weeks ago.



This is the set up that the females are in - if someone wants to buy all 3 females and their set up the price is
£500.00
Otherwise the set up will not be sold until there is only 1 remaining gecko (or 2 if theres 2 left and are bought at the same time) price will negotiated depending on circumstances. The females set up is a 45x45x60 Exo-Terra with various plants, 1 MagNaturals feeding ledge, 1 MagNaturals small hide and an artifical vine.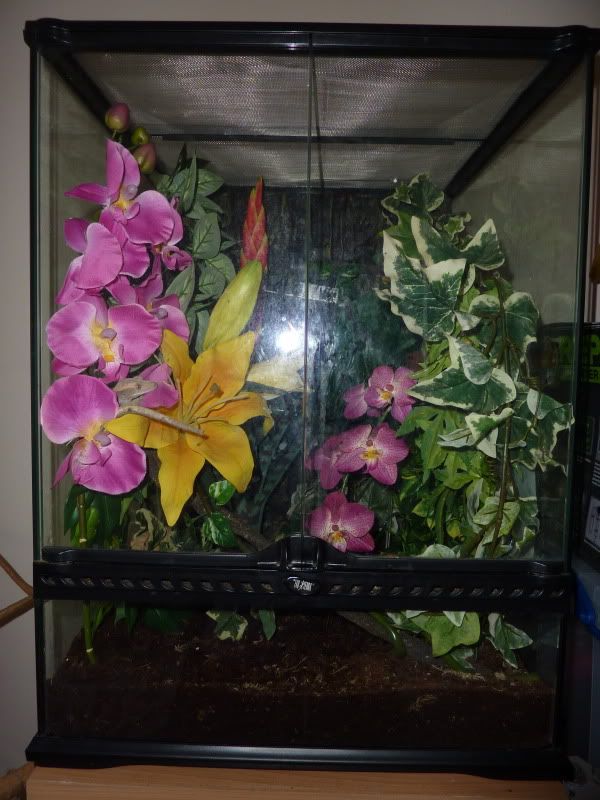 Please note these geckos are COLLECTION ONLY as as much as I would like to be able to let people use reptile couriers I work 5 days a week and cannot take any time off.
All geckos are eating crickets and CGD/fruit mix. I do have roaches to feed them but have been unsuccessful in getting them to eat them.
Any questions please PM me.