Rankin Dragon = Dwarf Bearded Dragon = Pogona henrylawsoni
I'm guessing that my rankin dragon is a male, due to his territorial instincts, and I have a few photos I'd like to share:
The following pictures were from last week, when he was moulting.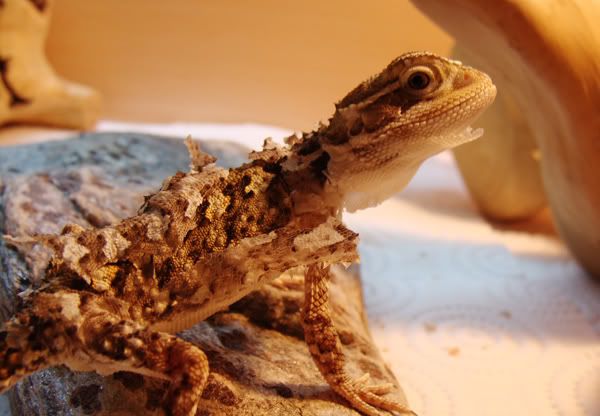 ---------------------------------------
I've recently started to feed him waxworms, since he's big enough for them now, and as I speak, I've just watched him gobble down a piece of fruit. If you want, I can post a video - he stalks his food in the most hilarious fashion - waving his forelegs, moving forward a bit, waving his forelegs some more again, then lunges....or with fruit he licks it for a while then - poof - it's gone, into his mouth.
Oh, and I named him (presumably male) Orion. My precious ickle Orion. *goes all gooey for a while*