Here are the latest additions to our family (and ever growing "zoo"):
The dark grey one is Treacle and the other one is Nibbles. I'm trying to get more photos today.
You can tell who's the more confident one
Nibbles playing "peek-a-boo"
Treacle not very impressed
Still in statue mode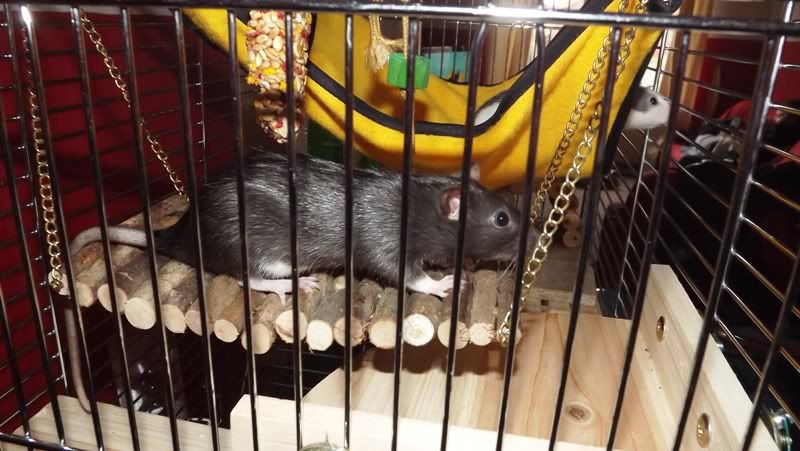 The story:
We got Nibbles (now 8 weeks old) 2 weeks ago. She was the last of the litter (incidentally nobody wanted her, as she was the smallest one). We only bought her with the condition (from my side) that we would find another female companion as soon as possible.
In the meantime she settled in absolutely fine. It only took 1-2 days before she came out by herself and started exploring us and her surroundings outside the cage. She seems more or less fearless, even the sight of a huge dog popping his head up next to her cage (he's still fixating on her too much - work in progress) doesn't faze her at all. She loves to groom our hands and had no problems taking treats from our hands right from the beginning. She's so food orientated, that it's quite easy to work with her. During the day she doesn't even bother about her house, but sleeps on the platforms so she doesn't miss anything. And she begs during meal times...
Anyway, after browsing 4-5 pet shops which either only sold frozen rats or only had males left, we finally found Treacle yesterday. I hang my head in shame and admit, that she was a sort of impulse buy and thinking back, I'm getting a bit suspicious about the circumstances. When we got to the shop there were only near adult males "on display" for sale, but on inquiring the guy went to the back and came out with a small cage full of 4 female rats. We picked Treacle (there were one that looked like her but didn't have the white paws and two albinos) and he got her ready. In the shop they said they handle them all the time, but obviously she would need to get used to being handled by us. They also gave us advise in how to introduce the rats to each other (something I had already prepared - neutral area, etc).
Looking back, none of the rats seemed very interested in "meeting" us, but kept squeezing into one corner unlike Nibbles who was straight out to greet us. When we got her home we introduced the two rats in a neutral place. They got on straight away with Nibbles, despite being younger and smaller being the more dominant one. After a while we let Treacle into the cage, so she could put in her mark. Nibbles followed a little after and they both went exploring together. Treacle seemed quite happy to climb up and straight away took to the bridge.
We did as it was advised and left them to it for a couple of hours, but already noticed that Treacle would freeze with her eyes bulging out every time someone would go near the cage. When we changed the food and water later on that evening, I tried to get her to sniff my hand, but she just froze. She doesn't even want to take a treat even if it's dropped in front of her (tried all sorts) and left alone. She relatively easy to pick up and carry (during transfer to the cage), but only because she is so terrified to move. She still doesn't want to even smell our hands/fingers.
Am I correct in thinking that the shop assistants were maybe talking bull and those rats have not been handled a lot at all? Or am I doing something wrong (maybe expecting too much from her, being spoiled with Nibbles who was keen to interact right from the start)?
I've now read up a lot on socializing shy rats and will do it step by step and give her all the time she needs. She's here to stay and I'm sure she'll "get there" in the end. I just need to find out, what she really likes (Apart from being ignored, lol) and bribe her.