Discussion Starter
·
#1
·
hiya
thinking of selling my buggy/car it is battery operated but it goes up 2 30-40mph. very fast car for a battery pack one... lots of people race these next to the plough inn pub(in southampton) as there is a race track there for petrol cars and the buggy what im selling
will come with-
3-4 battery packs
battery pack charger
lots of bits and bobs with it(inc spare wheels, wire, another 2 battery packs not sure if they work), vinyls.
controller
car of course
has forward, reverse, right, left acceleration.
very very good car. better than petrol ones i think, as sold my petrol one couple of years ago and got this one as much more easier to run. just charge battery pack for approx 4-6 hours, for about 20-40mintues fun!
does work as been playing with it for the last 2day's as the weather is nice!. lol....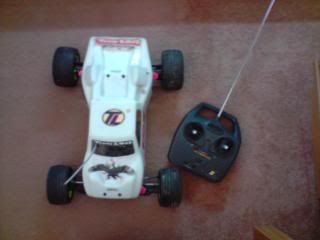 thinking of looking around the £80 mark as has cost me a bit of money for the battery packs, and last year put new suspension on it, and new motor.
pick up from southampton hampshire area, i mite post willing that you will pay a bit of money for the postage. which could be up to £20-£30
also got another car maybe up for sale, which is an offroad buggy. works perfectly well. two different cases for it. £60
or maybe both for £120