Common Names:
Dwarf Burmese Python or Dwarf Tiger Python

Scientific Name:
(Python Bivittatus Progschai) not! (Python Molurus Bivittatus)
True Dwarfs are a local specific species that has been given its own taxonomic classifiction. What most don't realize is that these arent just smaller Mainland Burms, their patterns are different there personalities are different, & there anatomically different aswell compaired to your normal Asian Mainland Burm. The Dwarf Burms anatomically differences is one of the key factors why they have been listed as a separate subspecies.
In The Wild:
Mainly found in holes, hollow tree's, an in & around forests. They are a primarily nocturnal species that is mostly active around dawn & dusk.
They eat a varitety of food items mainly small to medium mammals
Size:
Dwarfs are a small & a some what slender snake with Males reaching around 4-5ft & Females reaching around 6-8ft although for this species an 8ft Female would be classed as an absolute monster Dwarf.
Adult Dwarf Male
Adult Dwarf Female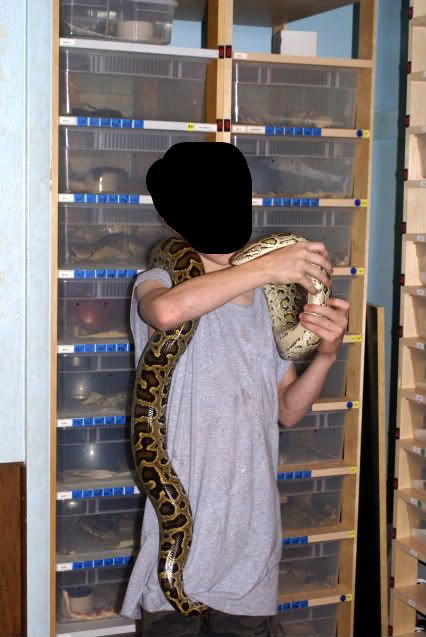 Lifespan:
The lifespan of Dwarfs is still unknown as these where only first imported into the UK & US in 2003.
My guess is around 20+years depending on diet.

Housing:
Through the years i have gathered information from some of the top breeders in the business including snake catchers & reptile farmers outside of the UK & US. With the information i have gained i have put all my theorys to the test & i am now 99.9% sure i have finally found the perfect enclosure sizes & setups to keep them in, in the UK.
These enclosures i have listed below are what i & others keep Dwarfs in.. from 2ft to a 8ft
Females
2ft-3ft - 24.5L Really Useful Box
3ft-5ft - 50L Really Useful Box
5ft+ - 3x3x1 (ft LxWxH) Vivarium
Males
2ft-3ft - 24.5L Really Useful Box
3ft-5ft - 50L Really Useful Box
5ft+ - 3x3x1 (ft LxWxH) Vivarium
Because Dwarfs max out from anywhere between 4ft-8ft they dont need monster vivariums like there cousins.
Yet these enclosures do seem small?.. yes they do!.. but there are reasons why i keep them in these sized enclosures.
Many make the mistake that thinking height & length is the best enclosure style to keep them in, when in truth they are wrong.
(Although it can be done, i have found it is alot more stressing for the snake making them more defensive.)
Did you know that 85% of Dwarfs are found in cramped holes?
Did you know that they feel more secure when three parts of there body is touching a wall?
Did you know there less defensive when they get to burrow instead of being out in the open?
Tight low heighted enclosures & fluffy substrates with hides are key to keeping a happy Dwarf so by mimicking there natural environment without the predators you are giving them a stress free life & saving yourself from alot of bites.
Substrates:
The best substrates i find are aspen or a moss mix of 25% Eco Earth.. 75% Moss
With these substrates it gives the feel of a hole or tree stump, meaning the Dwarf will feel more secure because it is being touched on all sides. It also lets it burrow & hide when needed.
(Newspaper can be used but it is best to crumple up 2-3 pieces before placing it in the enclosure.)
Water:
Water should be changed everyday or everyother day. Dwarfs wont go anywhere near stale water & there is nothing worse then having or seeing a dehydrated snake.
Heating:
Heat mats, heat cable, AHS heaters & Ceramics can all be used but you must always! use a thermostat to control the temperature. Ceramic bulbs & AHS heaters must also be guarded at all times.
A basking spot temperature should be given at around 89*F-91*F
With a ambient air temperature around 86*F-88*F, anything less will more then likely end in a respiratory infection
Hides:
Dwarfs are a very shy & nervous species. An like any animal if it doesnt feel secure it will lash out in defensive so two hides should be given. One hot side, one cool side, even though they may not use them it is best to still keep them there just incase they want too.
(Dwarfs burrow into corners alot so its best to place the hides there)
Feeding:
In captivity Dwarfs should be offered rats, i see no reason to feed them mice as Dwarfs will out grow them very quickly.
A meal twice the girth of the Dwarf should be offered every 10-14days but be warned Dwarfs can get overweight very quickly so be sure to watch there growth.
Forceps should be used as Dwarfs like to strike there food items a couple of times before taking it, so watch out.
This is just a basic a more into depth one will be written soon once im off my meds