i use the lee's kricket keeper: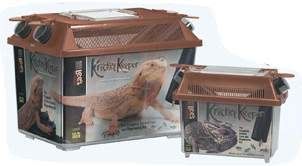 i find it a brill way to keep my crix.
Its easy t put crix in, you don't need to worry bout them hoppin out as the top lid opens securly. Best of all, the crix hide in the plastic tubes so all i do is slide the tubes out put a little supplement in the tube, shake it about and then shake the tube in with my chameleon. Job done, couldn't be easier, no fiddly catching with tweasers no mess with the powder, just quick and simple!