Discussion Starter
·
#1
·
Hey! I got my Butter corn today, went to Keptville this morning and got him. He is so tame it's insane! On the way back (After going to 'little rays reptile Zoo hehe) he slept in my hand for like an hour just sitting there, I don't think I have ever seen a corn so tame and quiet!
His colourations are amazing even as a baby! He is also Het for Motley, I can see the motley trait affect him. He has some fused blotches and some starts of lines going down the side of his face and part of his body.
Here are some pics of him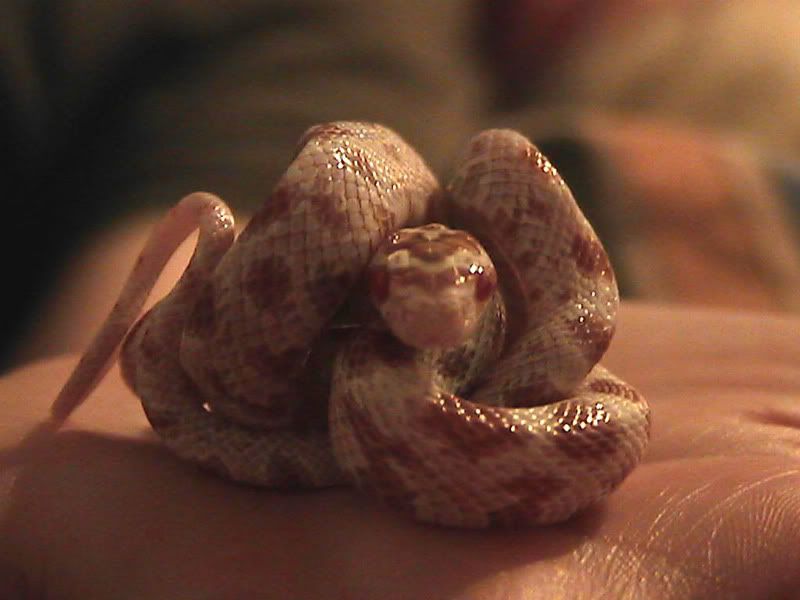 Still Curled up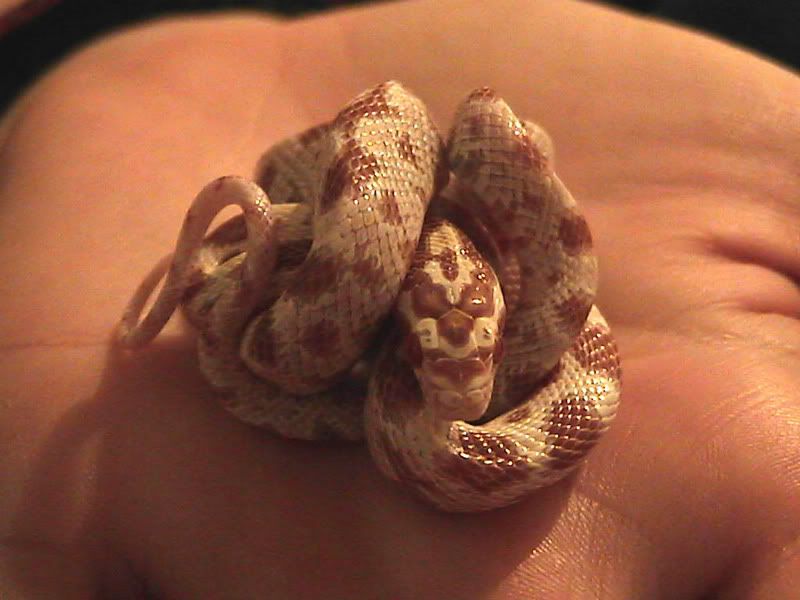 Hope you enjoy the pics!!
On the way back from picking him up we went to 'little rays reptile zoo' there were so many snakes and lizards it was insane! I think it's the highest concentration of reptiles I have ever seen in my life!
They had a 22 foot reticulated python of which was as thick as my body! They say they feed it once a month and sometimes feed it a 44 LB goat lol! seriously it was HUGE! There were also alligators (two big ones in a huge enclosure) ... and crocs.
Also there was a giant 8 foot Crocodile monitor! whoa! he was massive.... lol two adult 6 foot water monitors too... they had a few venomous snakes - Cobra, Gabon Viper, eyelash viper, Diamond back rattle, Cotton Mouth, Copper head, 15 foot Albino Burmese, False water Cobra, Yellow & green Anacondas AND! Still my fav.... the Albino Bull snake
lol ... got to hold a 7 foot adult
damn my next snake is certainly in place
They had blood Pythons, they were really nice!
Lol they fed a 8 foot Burmese a rabbit in front of everyone, it was really cool!
Lol sorry I think I had a Reptile over dose today! My baby corn certainly liked being in the zoo I think, nice and humid. Funny thing is MOST of the reptiles they had were rescues! The cobra the Gaboon viper the large snakes… everything even the crocodile monitor! (cant imagine owning a cobra) Me and my girlfriend want to open up the same sort of thing in the u.k
…. Maybe not as big lol few rescues and what not
My Butter has settled in really well... We fed him a little bit after we came in and he ate straight away
Anyway Hope you like the pics!
Matt.