Discussion Starter
•
#1
•
Hello all,
As a newbie to the leopard gecko world I was hoping to get some advice for you knowledgeable people on here. I do currently own a veiled chameleon and a beardie so I have experience with reptiles.
First of all I would like to apologise as I'm sure most of these questions will have been asked hundreds of times before. I'd rather just ask than pick up bits of answers from other threads and possibly get confused.
1)
I'm converting a Juwel Rio tank as seen below to hold a few leopard geckos. My plan is to have a predominantly narrow mesh lid, with a solid area covering around 50% to try and help keep a bit of heat in.
I've never used a heat mat before, and most of the stuff I read says you should put the mat under the glass tank. I'm not sure that is a good idea though, and I would prefer to have the heat mat inside under some thin slate or other flooring. I thought having it inside might also help to heat up the floor a little more and not be affected by heat dissipating out of the roof so badly.
This is the tank as it is now.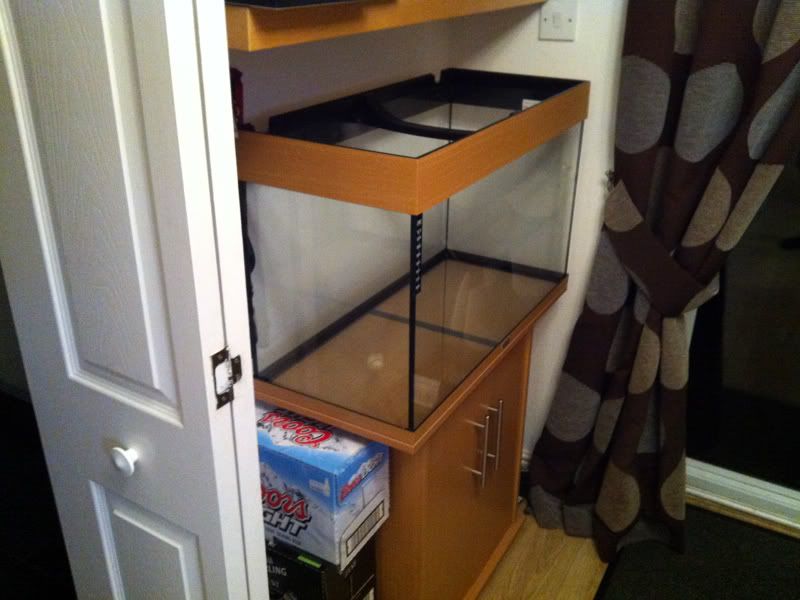 Can anybody see any potential problems with that?
2)
Ideally I'd like to use a mixture of slate and sand base for the leopard geckos to live on. I've seen a lot of things written about impaction so I'm a little concerned as to what to do.
At what age is appropriate for a gecko to make the change onto sand?
PS. I know not to use Calci sand. :2thumb:
3)
The only leopard geckos I've really looked at are in Pets At Home. They seem to be really well looked after in our local store to be honest, so I have no real problem buying from them. My only concern is their age and sexing them.
Does anybody know the rough age of the leopard geckos in Pets At Home, or do they tend to vary a lot?
4)
Ideally I'd like to have two leopard geckos living together so that I can eventually breed them. Do you think it's possible/realistic to get two at the same time, for example from Pets At Home and have them sexed to have no trouble of fighting etc…
5)
Has anybody used Heat Rocks before with any success, either instead of, or as well as a heat mat? :eek4:
I'm not rushing into buying the geckos, I'll wait until I've got the set up exactly right before I buy them. I just wanted to get an idea for keeping two and breeding. I've not even began to look at all of the morphs yet :gasp:.
Thank you all in advance for your help and tips!! :2thumb: