another batch of questions, sorry.
i have gave it some thought, and this is the viv id like to put a ATB in. at the moment it is a fish tank, but with some mods, it could work well, in theory.
i have looked up some care info, and most says that this will be ok, but i like the opinion of some clever dudes before i rip apart the tank, and make a new viv.
this is my visulisation, in paint no less!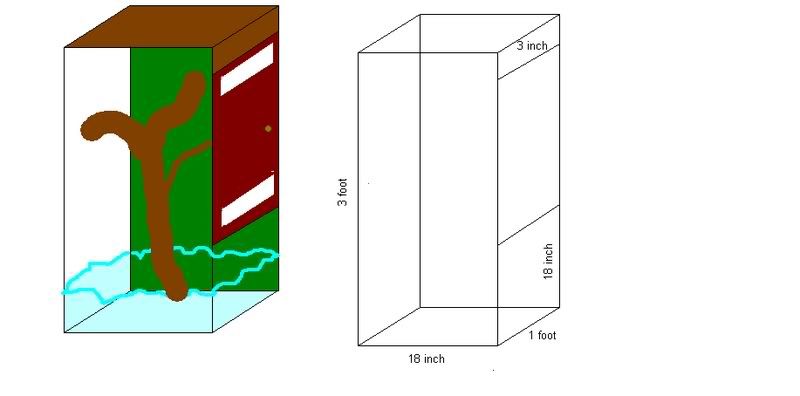 the idea is, like a exoterra terranium, i can have a small amount of water in the bottom, 3-6 inches, with filter, and heater. then branches reaching up.
the top would be wooden, and the panel above the door would be glass (although it is brown in the pic
).
id paint the outside of the back wall green, and the left side would be polystrine insulated and next to my stack. the door would be wooden, and the white bits, a fine mesh vent.
id heat it with a 3'x1' heat matt against the back of the back, on the outside, andid put polystyrine on the other side of the mat to insulate from the wall.
i have read that i cannot use any heat emitter (bulb CHI), because they strike at it, so i dont intend to (why risk it), but i would like to have some light in there.
if flourecent ok? because it heats up a lil, but not very hot.
otherwise can i use a compact uv bulb.
what are peoples opinions on UVB, some of the care inf says yes, but others say it can damage their eyes.
should i use a habba mister on them, i could set it to "rain" from the top, i am only worried about the viabrations, disturbing the snake.
also, can i have a few fish in the bottom, it'dlook really pretty, but boa might eat them? is that safe?
thanks for any help
Dan