Discussion Starter
•
#1
•
Pics, pics, pics :2thumb:
Re-organised two of my adult Mangrove's vivariums today, so snapped some pics of the individuals while they waited for their new 'digs' in an empty viv.
First up is big momma,
Boiga dendrophila melanota
;
Such a calm and placid lady.
Next is a very grumpy
Boiga dendrophila dendrophila
..
Really surprised how big it has grown since I last had it out, not far off 2m now;
Really intimidating when puffed up and angry.
Having been very busy recently, I have not had the time to be constantly scraping poop from branches or struggling to extract snakes from vivs when they dont want to play along, so I have started streamlining my set-ups, leaving just the necessities that the snakes require.
Pics of the above 2 after their return to their new homes;
B. d. melanota
;
B. d. dendrophila
;
In these vivs there are now just 2 horizontal removable 'branches', one hide box, one large
Ficus benjamina
and a small
Pothos
plant, water bowl and deep substrate with hydroleca underneath, to help keep humidity up. Much easier to clean :no1:
This lady freak shed yesterday, so deserves a quick flick.
Boiga dendrophila dendrophila
, Dainty;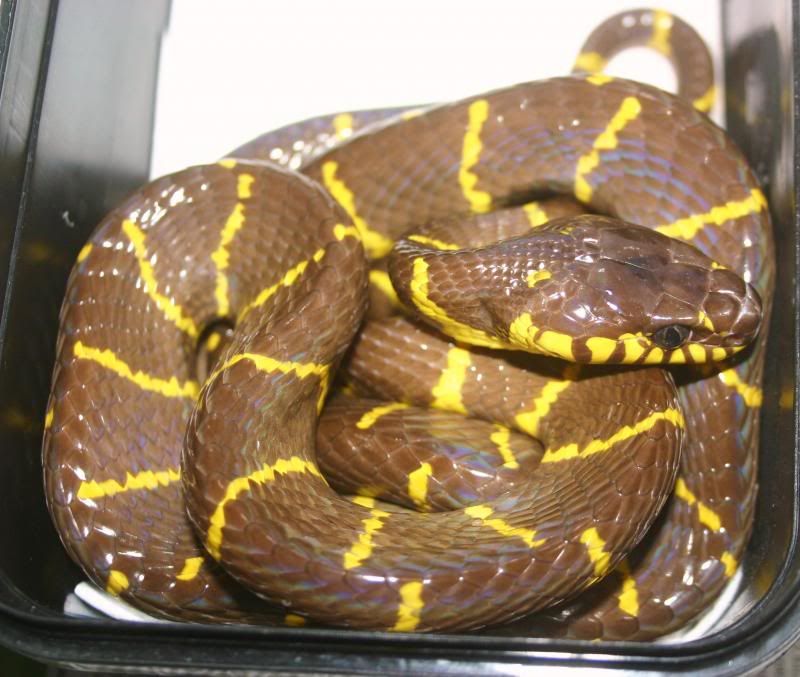 And finally, not Mangroves, but related. The
Boiga cynodon
I have are coming along well, both eating heavily and putting on weight.
The 'male';
I think it is amazing how yellow their actual skin is under their scales (after 2 chicks);
4 more vivs to do, including the
B. cynodon
final homes. Will get more pics when they are done. Love 'em!
Thanks for looking :thumb:
Tom