My leopard gecko is not eating
This is a popular question and rightly so it is very worrying when any of your pets refuse to eat here's a few questions that if you could include and answer in your thread would be very helpful to anyone trying to help you and your leopard gecko.
1. Is your setup correct please include detailed information about your setup including how many leopard geckos live with in it.
As an example I will explain one of my basic setups.
The vivarium is wooden 2 foot wide 15 inch's deep and 1ft high.
We are using a heat mat this covers half the vivarium floor.
For substrate we are using lino.
We are using a thermostat to control warm end floor temperature in conjunction with digital thermometer the probes are both at floor level of the warm end and one thermometer probe in the cool end.
Getting warm end floor temps of between 32.c - 33.c and cool end temperatures of around 23.c.
We are using three main hides warm end hide, cool end hide and moist hide in the middle I use coir as the medium for my moist hide.
Also have a water bowl mealworm dish and a small cap of calcium for them to lick.
My vivarium houses a lone female.
A picture of your setup and the leopard gecko is always helpful
Heres an example of picture that will help try to include whole setup in the picture and the whole of the leopard gecko in question.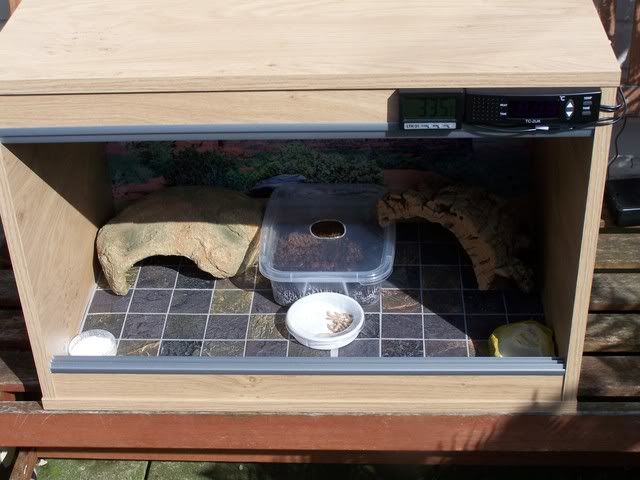 2. How old is your leopard gecko
Here's why answering this question is helpful
Hatchling and juvenile leopard geckos normally have a ferocious appetite eating many items of live food in one sitting and normally will eat everyday as they are still growing.
But once they are starting to mature and reach their full size at around a year old their appetite normally slows right down as they are not growing anymore.
3. How much does your leopard gecko weigh have they lost any weight
Here's why answering this question is helpful
Rapid weight loss is normally always a positive sign of a problem and is easily and quickly picked up if you weigh your leopard geckos and keep a record.
It is a good idea to weigh your adult leopard geckos around once per month and record the weight
I like to weigh juveniles once a week so I know they are growing and putting on weight.
4. How long have you owned your leopard gecko
Here's why answering this question is helpful
It can take a leopard gecko that has just been put into a new setup time to settle in and feel safe in their new environment new is quite stressful for them.
This amount of time varies from one individual to another and could take from a couple of days to a couple of weeks in some cases even longer.
Where as if it's an adult that has been in the same setup for years it would indicate that something else was inhibiting their appetite.
I shortened this a lot as it was too long and no one would heave read all of it lol there are many questions that need to be asked have tried to include the basic ones.