Discussion Starter
·
#1
·
After many months our new crestie viv is finally finished.
It stands on the floor and measures 120cm (4feet) high, 60cm (2feet) wide and 60cm (2feet) deep. It has been built to house our 3 females and any subsequent females we may come across (looks like 2 of our holdbacks this year are girls:2thumb
It has cypress mulch at the base and 3 large pieces of vine root running top to bottom. We used exo-terra background as backing as could not be bothered going through the whole polystyrene and tile cement malarkey. I also created a ledge with a piece of exo-terra background and a hot knife. Just had to add plenty of fake vines and some artificial flowers to make it all colourful (it is for the ladies after all!).
There are also a couple of magnaturals in there which we love as they are so versatile and easy to clean - a cave which Calypso loves and a feeding ledge for their mango and repashy paste.
We have added some heating as our front room can get quite cold. We have chosen a habistat reptile radiator hooked up to a pulse stat and they work brilliantly just adding enough background heat and never getting really warm.
Seeing as the viv is so large we also added a Lucky Reptile Rain System using 2 misting nozzles which we had spare and that works great too, 5 seconds twice a day and job done! (certainly saves cramp in my hand!). The nozzles are positioned so the ladies never get sprayed directly and the really fine mist stops the temops fluctuating hardly at all.
Tempted to get an infa red camera and see what they get up to - that would be cool!
Anyway here are some pictures, hope you like! PS. There are a few geckos mingling in the pictures Where's Wally style! :2thumb:
In place:
Front: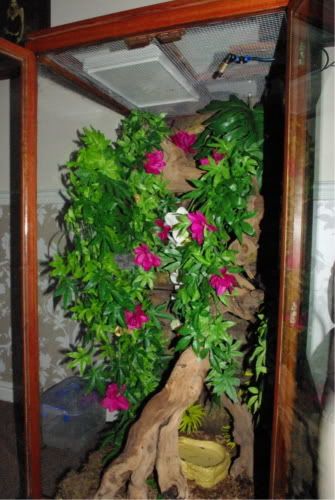 Left: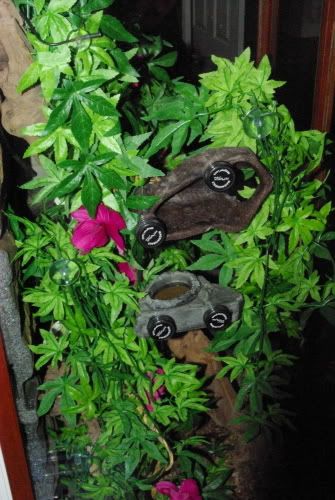 Right: