Hi Guys
Thought I would post some pics of IKEA racks that we made a while ago
Cant recommend these enough for racking and very versitile
Hope you enjoy
I had been looking to make some racking for a while and found that IKEA sold "Doorless wardrobes". These are only about £55 and come in a variety of wood effects. Its VERY heavy nice quality chipboard. You can then buy as many shelves as needed for £12 a pair. This one here measures appx 210 cm high X 100cm wide x 58cm deep
Before assembling anything a routered out 2 channels in both the tops of the shelves and also on the inside of the sides. I then put on some "Thermawrap" sticky foil tape which will reflect heat up from the heat cable when thats put in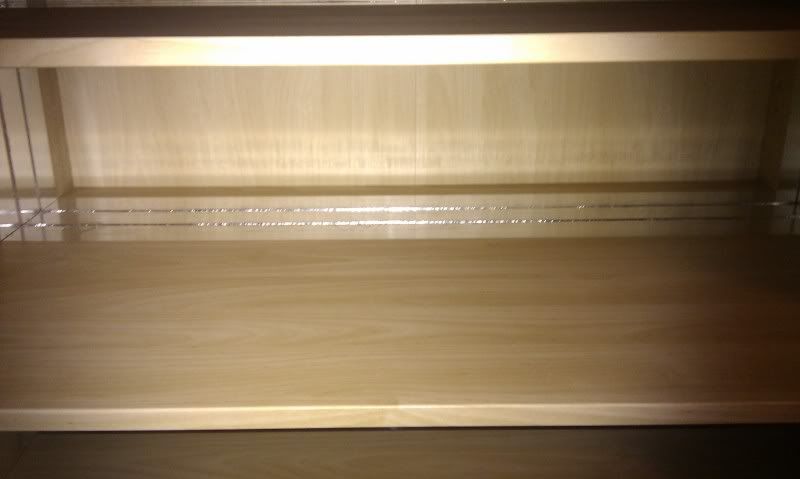 I made the 2 channels about 2" apart and made first one about 2-3" from back of shelf. By having these routered I was then able to thread the heat cable up and along one channel then crossover and come back filling the other empty channel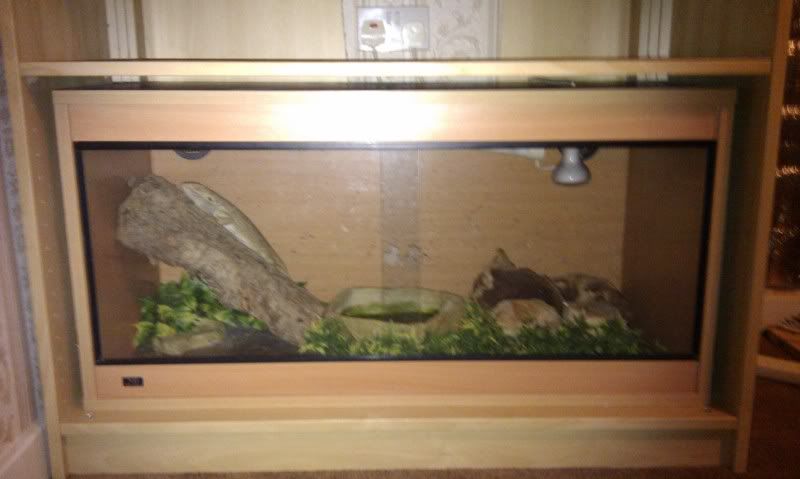 We will eventually incorporate 3 vivs into the racks. These house 3ft vivs perfectly and we will have one at the bottom of each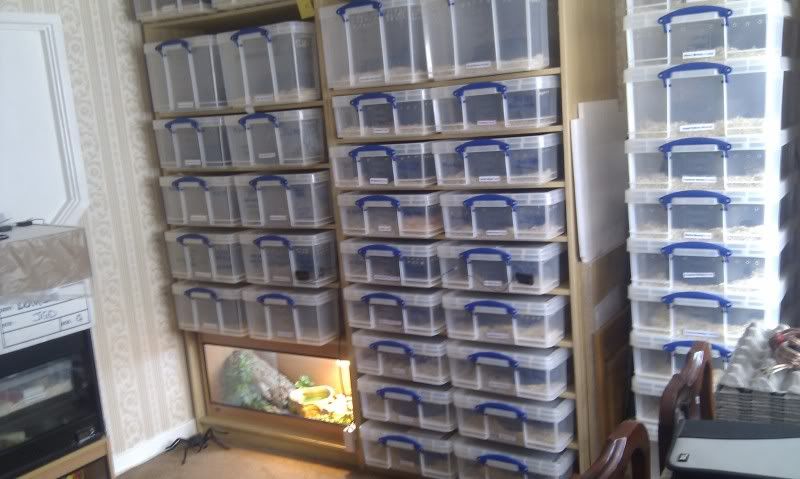 2 of the bigger 100cm wide racks done. If not using a viv at the bottom you can fit 20 33L RUBs however the top you cant fit another shelf but can still stack 4 on the one shelf. You can probably fit about 14 50L RUBs on one. Theres also room to fit 4 33L on top of the unit (Depending how tall your ceilings are)
One drawback is that you cant go lidless as the RUBs stick out about 2" however this helps to give a nice amount of light in one end and also gives a nice cooler open end rather then the enclosed dark warm end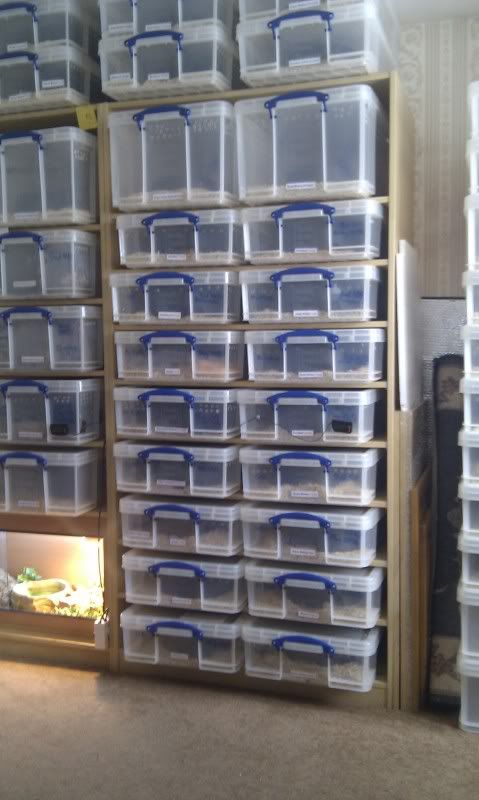 I have just enough room to fit another big "double" rack in and also IKEA do ones exatcly half width which fits 10 33L or 7 50L which will then make one whole wall of racking.
Pic showing one of the 50L RUB gaps. Note all the predrilled shelving holes which allow you to customise width of gaps nicely
Close up of the untidy bit of heat cable where I started threading the heat cable, went round the whole of all the groves and ended up with pretty much perfect length. (Note you will need to leave a fair amount from plug as this does not heat on the heat cables. I bunched my cold end up and tided behind the viv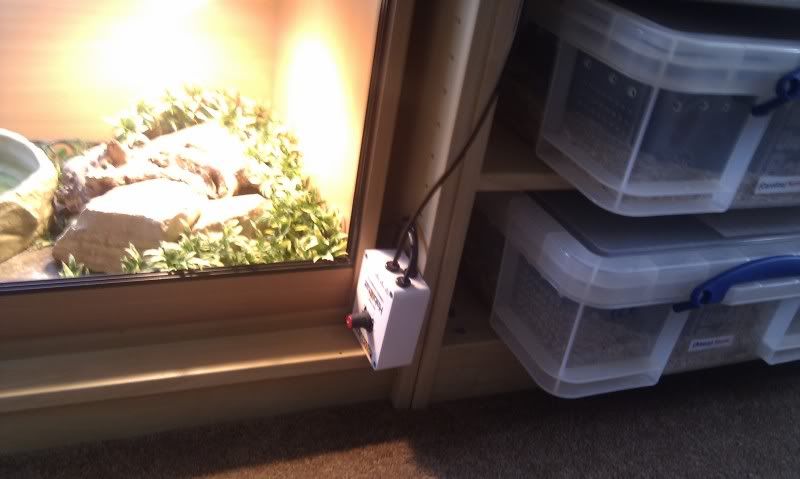 The thermostat which all of them will have in same postition (Might be wise to have higher incase of knocks) I have mine lower as my probe is set in RUB higher up. Have mine low so I can take the RUB out and gives enough length on probe cable to put on floor.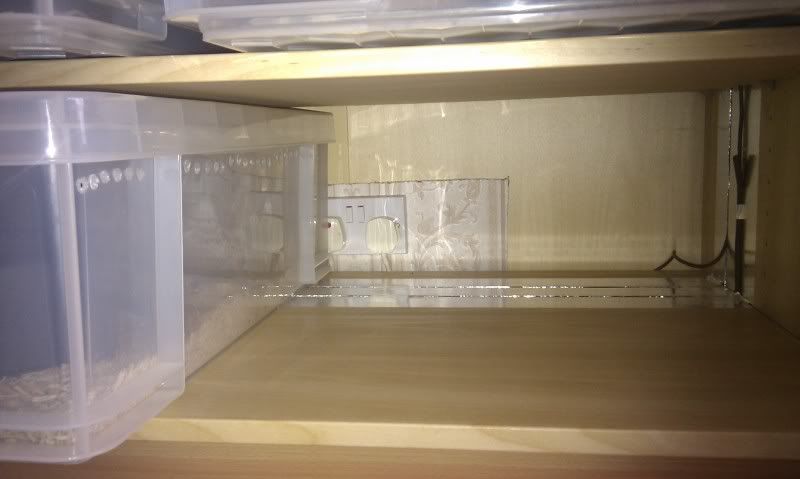 Had to cut a small square in the back board to be able to get to plugs. (You really are NOT going to be able to move these easily once you have a full wall lol
And there you have it. Not the best of pics. When I make the last 2 I will take pics as I go to show how I do it a bit clearer
Here are links for the 100cm Wide 210cm Tall ones:
IKEA | Wardrobes | PAX system | PAX | Wardrobe frame
And the shelves:
IKEA | Wardrobes | PAX system | PAX | Shelf
Cheers
Alan