Hi there have finally got my vivarium finished and ready to go, was just wondering if all you good people could look over my setup to make sure I have got everything spot on.
here is a picture of the finished article with fake rock background finally finished although is still bit stinky but have been working on that and should have that problem solved by end of this week (fingers crossed).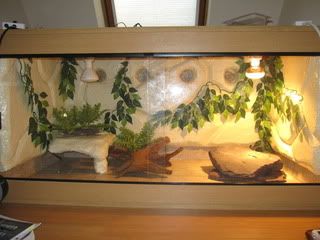 I have got a megaray bulb for uv which goes behind the spotlight in the picture but I have not put it in yet.
The spotbulb and ceramic (for night time and emergency) are both on thermostats
Temperatures I am getting on my exo terra digital thermometer are around 102F at the basking spot and on the surface of the rock the highest temp measured using my infared temp gun is 116F ( am not sure if this is too high for the surface rock temperature)
cool end temperature is around 75 under the cave and about 83 on the wood.
the size of the viv is a 4x2x2 and is for a beardie (forgot to put that it in at first lol)
Think thats everything please ask lots of questions and help me to get this right.
cheers!
James