Discussion Starter
·
#1
·
Today is the first day of the Ratsnake Foundation's newsletter, called rather imaginatively, Ratsnakes Digest. The title was voted on by the membership and the newsletter will be sent to both registered users of this site and Full Members. We hope that both registered and Full Members will contribute their knowledge so that we may all learn from each other and in the long run, benefit from our pooled wisdom.
Some of the features in this issue include:
News, Announcements and Updates about the Ratsnake Foundation's Website
Herping Arizona by Terry Cox
Trinket Snakes by Sue Knight
Herpetological Events Worldwide
Chairperson's Chatter by Dave Royans
Chief Editor's Epilogue by Dave Royans
Brumation by Sue Knight
Members Interview Toby Brock (sotexgp) by Terry Cox
Newsletters can also be downloaded by logging into the Ratsnake Foundation and going to the Articles section where you will notice a new section especially for them. The newsletters will be archived here, and past and present issues will be able to download when ever.
The newsletter is in PDF format and this issue is 7 pages. : victory: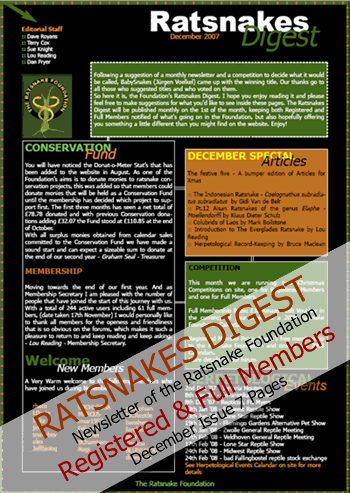 So if your interested in Ratsnakes at all - hop on over to the Foundation and register and grab yourself a copy.