Discussion Starter
·
#1
·
Now, I'm not saying that its 'advisable' to house beardies together, and its not something I would necessarily agree for a 'novice', but people are so quick to lay down the law about housing beardies together, the rights and wrongs, and 'have a go ' at people housing beardies together.
I have a male & female beardie. Bought together from the same shop where they where housed together, but supplied to the shop by 2 different breeders. They live together, have done since the day my hubby bought them home.
I guess I may be lucky as there has, so far, been no signs of aggression. They co-habit very well. Now I'm lucky enough to work from home, where I can keep an eye on them. I have a second set up ready for when the 'inevitable' happens, and if he gets to her before and she lays, the eggs WILL be frozen and binned. I'm not a breeder, I have NO plans to breed or make money. These are strictly my babies.
But before people bite each others heads off, maybe we should look at the bigger picture...
My male...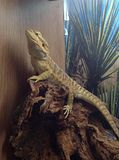 My female...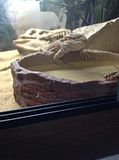 Together...